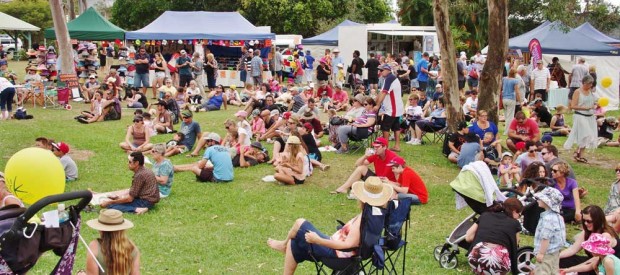 Every third Saturday Tin Can Bay Markets are held on the foreshore a short walk from the motel.
The popular Seafood Festival is held in late September, with loads of fresh local seafood, cooking demonstrations and activities. The festival is in the foreshore park very close to the motel grounds. Stay the night and enjoy the festivities, without any worries or parking hassles.
The Bay to Bay Yacht Race is held in May; over one hundred yachts head up the Great Sandy Strait to the Hervey Bay Yacht Club.
The Tin Can Bay Dragon Boat Regatta heralds the start of the dragon boat racing calender. Held in July at Norman Point, the regatta is a large and fun visual exhibition.
The Annual Cooloola Coast Ambulance Flower and Craft show is held in September at the Community Centre. It is a garden and craft competition much looked forward to by the community, with great prizes and impressive exhibitions.
Rainbow Beach Family Fishing Classic is held in July, and is a huge annual event with family entertainment and huge prizes.
The renowned Gympie Music Muster held late August, is Australia's favourite camping and music festival.
Tin Can Bay Foreshore Carnival boasts free entertainment for the family on New Year's Eve, with carnival rides, stalls and firework's, the event provides a great opportunity for young families to enjoy the festivities.
---